TRANSPORTING
VEHICLES IN THE OPEN CARRIER
RGS has years of open car shipping experience
What is open vehicle transportation?
The most popular style of auto shipping is open transportation. Car shipment using open transport is simpler to arrange than enclosed car shipping. Open car transport is also more economical than enclosed since open trailer car carriers can hold an average of 8–10 cars at once.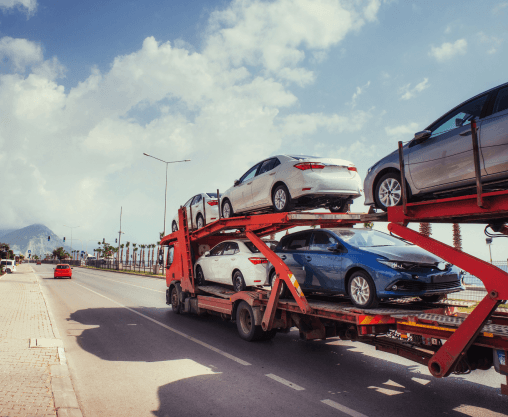 Quick shipping
Your car will be shipped most quickly with open car transport. There are more alternatives to pick up your car because over 90% of trucks use an open road auto transport trailer.
Best feasible choice
When exporting an automobile, the majority of individuals simply look for the overall best choice. Some people prefer to ship enclosed, primarily historic automobile owners. But open auto transport is the greatest option if you want to get the most for your money.
Top load available
For a small additional fee, top load preference can be added to open vehicle transport. This implies that throughout the open car transportation procedure, no vehicle would be loaded above yours.
Utilized by most car dealerships
When moving cars between locations, most of the time dealerships use open auto transport. We commonly use open auto shipping to transport brand-new autos for some of the finest dealers in the industry.
Why Opt for RGS Logistics When Shipping An Open Vehicle?

Network of service provider you can trust
Based on their commitment of providing services that meet high standards, all of our carriers have been selected. We can easily determine the best quality carriers to ship an automobile with this.

Finest cost
We constantly provide the most affordable rates for shipping cars. To provide you with the most exact and fair open automobile shipping cost, our smart online calculator takes into account all relevant variables.

No advance payment
As was already indicated, after the carrier has been dispatched for your order, the majority of vehicle transport firms (at least the ones you want to make a reservation with) will charge you. This implies that you can schedule open auto transport today and worry about the cost afterwards.

welcoming client service
Our staff members are always welcoming and accommodating. They will take care of everything to make sure you have a wonderful experience.