ENCLOSED VEHICLE SHIPPING
Your Vehicle Is Protected During Travel Via Enclosed Auto Transport.
what exactly is enclosed vehicle carrier?
A type of auto shipping that offers additional security for autos is enclosed car transport. If you need to export a vintage or antique car, this is a great alternative. Only a small number of vehicles may often be transported in enclosed carriers at once, usually no more than six vehicles.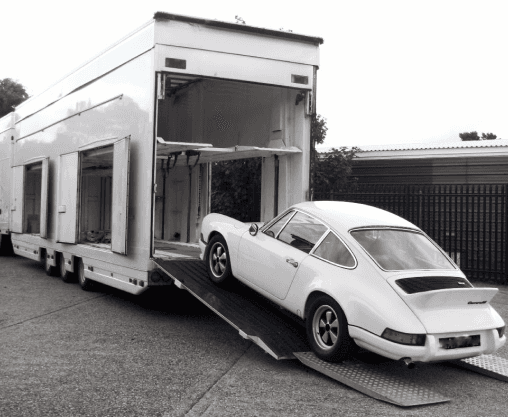 protection of mental peacefulness
We are aware that you want your automobile to be exactly as you left it. Enclosed auto shipment helps you keep your vehicle out of the weather and the elements. Your cost for enclosed car transport will only go up slightly.
Safe from weather, road, and rain dangers
Your valuable property is kept dry and protected from the weather by enclosed car transporters. The majority of clients don't mind a little snow or rain. However, covered vehicle shipment may be required for exotic or luxury car delivery in order to protect your vehicle from road pollution.
Ship cars with low ground clearance
Only enclosed auto transport is equipped with hydraulic lift gates, which are required when loading and unloading vehicles with low ground clearance. Make sure to mention this when making a reservation so that our enclosed auto transport quote specialists can ensure that this function is included in your enclosed automobile shipment.
Transport multiple vehicles
RGS Logistics is here to assist with all of your needs for luxury auto transport, whether you require a covered car transporter for a single vehicle perhaps several. The majority of enclosed vehicle transport businesses promise to get you the greatest rate, but RGS Logistics is renowned for offering the best service in the industry thanks to the thousands of verified enclosed car transporters in our network.
Why Trust RGS Logistics For Covered Car Shipping?

Network of providers you can trust
With RGS Logistics, transporting exotic vehicles is not only simple but also safe. To make sure you're getting a reliable and dependable service, our crew carefully investigates each and every enclosed car carrier business in our network.

Standard claims team
Due to the higher value of their goods, antique automobile carriers have insurance policies with higher policy limits. Our compliance team examines each of our carriers' insurance policies. If your car is worth $35,000 or more, enclosed auto transport is something we advise.

Reliable classic car transporters
The carriers for enclosed car shipping must be knowledgeable in antique, high-end, and collector automobiles. In order to provide each and every one of our customers with a high-quality service, RGS Logistics makes sure to choose the best carriers and drivers.

Requirements for covered auto transport compliance
To ensure that we only employ the most skilled enclosed vehicle transporters, we have a compliance department that examines all exotic auto shipping providers in our network.